Miles to the Moon
$13.95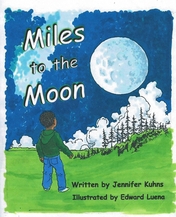 By Jennifer Kuhns
Miles to the Moon is a story about a boy named Miles who has a huge imagination and tons of hope. Miles also has something called Postural Orthostatic Tachycardia Syndrome, or POTS. Even though POTS makes Miles' body tired and not work very well, in his dreams and his love of all things outer space Miles finds a way to help people with POTS.
Today's Promotion
Where a Good Wind Blows
By Phil Mills, Jr.
John Meadows has been forced off his Wyoming ranch, shot and left for dead by gunmen working for Harold Winston.